Performance Engineering
Are your mission critical applications unable to handle more users, heavier transaction workloads and increased network traffic?
Are your customers and users complaining about slow response times?
Are some user requests simply blocked and not getting through at certain times of the day?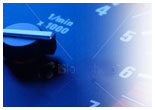 MIL can help you address these issues in a cost effective manner. By acting early to remove performance bottlenecks, we preempt our customers paying a greater price at a later date.


MIL's performance testing and tuning services will ensure that your application continues to meet its performance objectives. Our performance testing services are spread across different stages in the SDLC - right from design, pre-rollout evaluation to post implementation and maintenance.
we offer :
Pre-rollout performance evaluation and tuning services

Production monitoring services

Performance consulting services
your benefits:
Reduce application response time without incurring additional hardware costs

Improve customer satisfaction due to prompt response of your organization's application

Fix bottlenecks before costly problems occur in production

Benchmark your applications

Get recommendations on the architecture to ensure optimum performance